IVP Security & Training Academy
After a long experience in VIP protection offering many services in different countries, IVP SECURITY has decided to extend its services into the field of professional training to an international level. This is why we have created: IVP Security & Training Academy . The main purpose of this extension is to bring into the market new professionals trained with methodology for international V.I.P protection, in order to cover the demand for this kind of professionals.
OUR INSTRUCTORS. All our instructors are active professionals in the sphere of V.I.P. protection. They have been graduated in the best International protection training centres, with which we still collaborate actively. These good relationship, allow us to have a constant exchange of information and methodology of work. We also dispose of YAMAM, GEO, etc... ex-agents (elite unity) and different secret's services agents. These links and communication canals result to be a very good advantage for our pupils. Pupils from IVP Security & Training Academy will be instructed following the most advanced training techniques. Those techniques are chosen from the best international centres specialised in V.I.P. protection, as well as elite units, among other those of Israel. The difference between us and other academies is mainly the way of teaching all those techniques. They will be explained in an original way to prepare the pupil to face any situation in a conflict zone. Rules shall be modified and adapted following European or any other continent laws if that is necessary. We do ensure a high level of qualification to face securely with the development of V.I.P. protection any where around the world adapting this work methodology in relation to the geopolitics context of each country.
---
INTRODUCTION
Specialisation for protection as an international Bodyguard, requires from the pupil some physical and mental characteristics to allow him to control stress and bring him to be able to work in hostile environments. Candidates must learn how to react in a group of operational people, they also must be prepared to adapt themselves towards international security protocols. Our goal is to train security professionals, as well for the public sphere than the private. As we do train professionals and also aspirants, some conditions are required to be admitted as a candidate in our academy.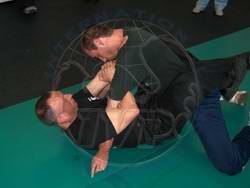 Once the candidate is accepted to be one of our pupils to the course he has chosen, he will be instructed and prepared in an intensive physical, technique and psychological way. His capacities of anticipation, reaction and response will be highly increased, so that the pupil obtains the best level of qualification which will allow him to face any mission in hard circumstances.
During his course, we expect from the candidate, to give the best of himself. If ever our instructors noticed during the progress, an abnormal behaviour not conforming to our rules, or a personal problem that could disturb the rest of the group, we would notify, and the person responsible should leave the course if he /she hadn't any justification towards his/ her attitude.
Pupils who will end evaluations with success will receive a diploma, and the ones who won't pass evaluations will get a certificate of participation.