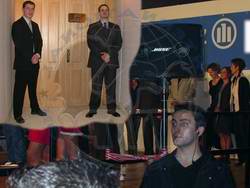 Our employees have a management and directives notebook from different security superiors and protection of their institutions.
Normally by these groups orders and applications are made:
Securing of rooms and their contents (peoples, logistic materials, diverse objects, etc...);
Supervising of different goods which were brought to the market (hypermarkets, art galleries, shops, etc .);
Insuring a smooth course of organized dinners (gala shows, concerts, fashion shows, night clubs, openings, demonstrations, sport events, etc.);
Depending on the clients demands, or a given situation, means of prevention, scaring etc..., can be used.
The group, which has the task of static security, is often confronted with routine and boredom. And for that same reason our agents are selected carefully and during training probed, so that any kind of attention diverting can not overcome concentration. In the missions this remarkable quality that our agents posses is very acknowledged.
Beside that they have the duty to act armed in plainclothes, and are able to adapt any environment. They also regularly work with our team for VIP protection.