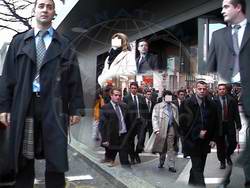 The experience has proved that in security the most important field is safety of VIP's. That kind of protecting acquires the highest level of qualification, know-how, and praxis, and in those great seriousness is expected of our agents, especially because an assault on a human life is something most immediate and with great consequences.
Experience and competence of this team will add to Your protection and protection of Your belongings (reinforcement team, escort or transport of valuable goods, etc.). Organization takes care for any given mission, which demands securing (real and potential risks, analysis and evaluations, providing a integral safety plan
when necessary, providing necessary logistics, room, infra structural and rout securing and plan studying.).
Our team members are developing them selves with important government officers, economical and political crisis of the business world, like wise by royal families.
This agents are acting exclusively in plain clothes, so they can protect clients interests under all conditions and on all fields of the given mission. Those services are presented to You in different languages and conducted with highest trust and discretion.
Cooperation of the clients is necessary for the success of an every mission, and that is the ultimate goal of our agents.