Our agents have one international recognized training and education. They can cope with every type of risk situations.
One part of special education in our team looks like this:
Israeli Tactical response methods

Israeli Tactical Shooting

Israeli Tactical unarmed methods

Technical - Close Quarter Battle (CQB)

VIP Protection Operative

VIP Protection Team Advanced

VIP Protection Team Leader

VIP Protection Management

Antisabotage

General Security Management

Survival

Courses S.W.A.T

Special Units

Law Enforcement

Protection In High Risk Zones

Rescue diver

Mixed martial arts (MMA)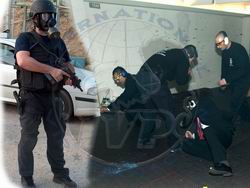 We are practicing use of weapons in accordance with very precise conduct codex, and we are capable to use them in every given situation (like: shooting from a moving vehicle).
All our agents are always strictly trained for great psychological and physical pressure. And that forces them to overcome their own limits in all fields of education (theoretical, physical, firing, fighting, leadership, simulation, etc...). The selection of this team is conducted extremely strictly and consequently.
In the course of this intensive training, each agent is confronted with real situations in collaboration with the best experts. That enables him/her to improve gained knowledge, and than be able to control the risks and threats better.